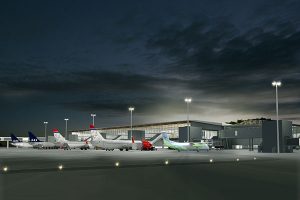 Avinor opened a new terminal for its Bergen, Norway airport this month, with a capacity to handle 10 million passengers per year.
The terminal officially opened on August 17, 2017, a more modern, spacious and logical terminal with a wider range of restaurants and shops.
 Government and Norwegian aviation representatives and other specially invited guests gathered at the airport, which was officially opened by Prime Minister, Erna Solberg.
Solberg spoke about how the airport is important for the entire region.
She saidL "Flesland plays a vital role in tourism and industry in the region. Now that the airport has doubled its capacity, we have a large international airport that Western Norway can be proud of.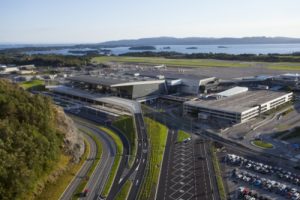 "This is a state-run flagship project that has run on schedule and within budget and Avinor can be proud of the work that went into this expansion."
Important for Norwegian aviation
Avinor believes that Bergen Airport has now become a modern, well-oiled operation with the capacity to cater for up to 10 million passengers per year.
It states that travellers can enjoy a more spacious airport with an increased number of restaurants and shops.
"The design of the airport and technical solutions offer big energy savings in addition to environmental benefits," says Avinor. "Good planning has facilitated the flow of people, benefiting both travellers and airlines. There is also a natural universal design."
Airport director, Aslak Sverdrup, notes: "We're now providing even better facilities for travellers and airlines. Hopefully this will mean more direct flights to big, important domestic and foreign destinations."