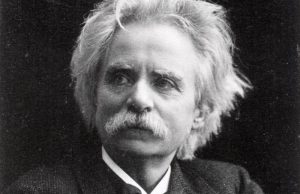 GRIEG IN BERGEN 2017
The 20.Grieg in Bergen will be a concert event filled with a varied and ambitous program, says Michael Süssmann, artistic director. This year`s artists and ensembles come from several countries, and a variety of artists and ensembles ranging from solo performances to chamber orchestra. There is much more into it than solely Grieg: A very wide list of composers will be featured, from baroq to modern music.
ORIGIN ARTISTS AND ENSEMBLES
Several countries are every year represented in Grieg in Bergen. In 2016 artist from Estland, Germany, Litauen, Polen, Russia, Italy, Romania, Serbia, France, USA and Norway participated in the festival.
YOUNG TALENTS
"As before, we continue to give special talented and young musicians the possibilty to perform professionally, which, except for the important and very good training this involves, also is mostly inspiring for the audience, Süssmann continues."The young artists literally give absolutely all they have on the stage, and their level of proficiency is asthonishing."
10 WEEKS DURATION
There will be 40 concerts from middle of June till end of August. Held in the charming Korskirken, the Church of the Cross, located in Bergen city.
MUSICANORD – the CONCERT MAKER OF BERGEN
With more than 1200 concerts organized since 1993, MusicaNord has earned a reputation as the Concert Maker of Bergen. GRIEG IN BERGEN is now our main festival, and a long lasting one. Starting normally around 20th of June, it runs until almost end of August.
The foundation MusicaNord was establsihed in 1991. We opened our first concert serie in 1993 in the home of ancient violon virtuoso Ole Bull (1810 – 1880), and had concerts there for 5 years.
In 1997 we started the Floien-Concerts, with 70 concerts every summer at the Top of Floien Mountain.
Then, in the year 2000, our Bergen International Chamber Music Festival came to life. This very fine event we kept for 4 years, and later transferred it into Grieg in Bergen.
In 2004, MusicaNord established the Ole Bull Prize, which is awarded every year.
MusicaNord has through the years also produced events like the Bergen Story (performed numerous time) closed events for conferences and congresses, and different events inside chamber music.