Welcome to Oslo, Norway. Here is Oslo Chauffeur Service's guide to arriving and departing from the airports along with some key business travel facts to help during your stay.
Set at the tip of Oslofjord leading to the North and Baltic Seas, Oslo has always had close business connections with the sea. There are 60 ships a day that use the city's port, handling 125,000 containers annually. The city is also home to the world's largest ship and offshore classification society DNV GL.
Norway has one of the highest GDPs per capita in the world, and the highest in Europe after Luxembourg. It is also has an expensive capital as Mercer has ranked Oslo as the 20th most expensive city to live in the world.
Yet the sea is not Norway's only economic powerhouse. In a country where 99% of the electricity is generated from hydropower, it is no surprise that the country is a world leader. Statkraft is the largest renewable energy producer in Europe and is based in Oslo's Lilleaker suburb.
Oslo's central business district comprises Vika, Aker Brygge and Tjuvholmen. Vika is the city's diplomatic district while Aker Brygge, which was previously home to a vast shipyard, was redeveloped in the 1980s and now combines business, shopping and entertainment in a mixture of traditional wharves and more modern buildings. Fornebu is an R&D hub that attracts many ICT companies including Telenor as well as being the office headquarters of Statoil; airlines SAS and Norwegian Air Shuttle are also here.
AIRPORTS
Oslo Chauffeur offers trips to and from all Norway's airports, including the three major airports in the capital of Oslo:
Gardermoen
Gardermoen is located 47 km nort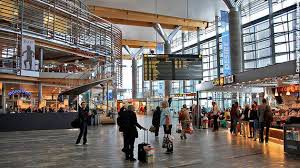 heast of Oslo. Oslo Airport is located at Gardermoen, 47 km northeast of Oslo.IATA airport code: OSL  Gardernmoen is Norway's largest airport, with direct routes to more than 140 domestic and international destinations, as well as 80 charter destinations. Gardermoen offers two hours of  free wi-fi.
Torp 
The Torp Sandefjord Airport is located approximately 110 km south-west of Oslo, in Vestfold county. IATA airport code: TRF
Rygge
Moss Airport Rygge is located 66 km south-east of Oslo in Østfold county.
IATA airport code: RYG